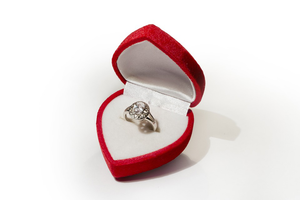 5 Secrets to Keeping Your Diamond Ring Sparkling
Diamonds are known to be the hardest substance on earth. They're also believed to be one of the most beautiful stones. They're a symbol of class and elegance, one that never goes out of style.
When it comes to your diamond ring, it's important for you take care of it. After all, the beauty is in its sparkle, isn't it?
Not cleaning your ring regularly or wearing it while putting on heavy lotion and creams can make it lose its inherent shine. If your diamond ring doesn't look the same anymore, there are various things you can do to keep it sparkling!
Below we will reveal some secrets that will help you keep your diamond ring sparkling:
1.
Keep your ring in a padded box
Diamond rings tend to get scratched if they're placed haphazardly in rough boxes or if they're kept with sharper jewelry pieces. A soft, padded ring box will help keep it safe and will protect it over time. Moreover, make sure you never store it in dry places as they can lead to the stones discoloring. Keep away from humid environments as well as they can greatly tarnish diamonds.
2.
Use your toothbrush to scrub it
Use a soft toothbrush to clean your diamond ring. Use warm water with a gentle liquid soap to do the job efficiently. You may also choose to create your own solution and dip the ring in a mixture of water and ammonia for approximately half an hour.
3.
Don't touch the diamonds
We understand your diamond ring is irresistible, but you need to avoid touching it unnecessarily. Oftentimes, women tend to touch the diamond stone on their rings while taking it off. Try grasping the metal ring instead as repeatedly touching the stone can accumulate grease on it and affect its shine.
4.
Take it to a professional cleaner
To keep your diamond ring at its best condition, make a trip to your local jeweler and get steam cleaning done. This will make it sparkle again, and it'll get a much-needed maintenance check too.
5.
Stay away from harmful chemicals
Harmful solutions like chlorine bleach or household cleansers must never be used when it comes to cleaning your diamond ring. These chemicals can immensely damage and discolor the diamond and make it lose its sparkle.
If you're interested in buying diamond jewelry in NYC, head over to Popular Diamonds. We offer a unique range of diamond jewelry online, including loose diamonds. Our fine array of accessories include engagement rings, wedding bands, and diamond watches. For more, call us at  1-866-867-1184!
---