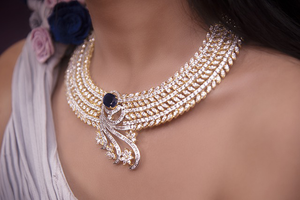 The Proper Etiquette for Wearing Jewelry
People have been wearing jewelry in one form or the other for centuries. Though jewelry trends may vary with advances in fashion and technology, there still exist some basic guidelines that are timeless and should be adhered to. Jewelry has the ability to glam up even the most basic of outfits, and tops up any look.
But just like there are social etiquettes, there are certain etiquettes for wearing jewelry too.
Let us elaborate:
Occasion to buy diamond engagement rings NYC

The jewelry you wear varies according to the occasion and purpose you're wearing it for. When it comes to your workplace, consider wearing smaller jewelry pieces that don't look too over-the-top and flashy. Small pendants or earring studs can be a great choice. For more formal events, you can go all out. Sparkly earrings, necklaces, or rings can be ideal. However, don't overdo it and remember that a minimalist look always looks elegant and classy.
Consider necklines
If you're confused about that massive statement necklace going well with your neckline, opt for a smaller pendant as these will never disappoint. However, don't be afraid to experiment regardless and go off the beaten path.
For open necklines, you can wear bigger necklaces that cover all the space and correctly match the shape of the neckline. However, if you're wearing a turtleneck top or one that has an embroidered neckline, you might want to skip wearing a necklace— balance is the key.
Think about your hairstyle
As odd as it may sound, your hairstyle and jewelry need to match. A high bun would allow your earrings to dangle freely and show off smaller studs that would otherwise be unnoticeable.
Avoid costume jewelry
You might want to consider avoiding costume jewelry. Jewelry pieces made out of metals and real stones are far more tasteful, no matter their shape. Oftentimes, costume jewelry makes one look unnaturally gaudy and fake, two things you don't want your jewelry to do.
Matching jewelry sets
If you have a formal event or a date in the evening try wearing matching jewelry sets to even out your entire look. If you have a statement necklace but no matching earrings, why not pair it with similar earrings of the same stone or metal? Your earrings and your necklaces don't have to be exactly the same, so don't hesitate to twist things up a little!
Popular Diamonds offers supreme quality diamond jewelry in NYC. We provide a fine range of diamond jewelry online, including loose diamonds. Our unique range of accessories includes engagement rings, wedding bands, and diamond watches. For more, call us at 1-866-867-1184!
---