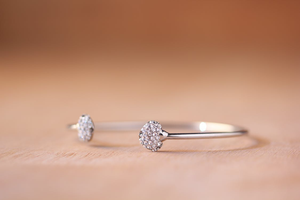 Buying Diamonds on the Internet
Are you thinking to buy engagement rings? Whether it's for an engagement ring, a present, or an investment, you should know that you're no longer required to visit a jewelry store to make select the gem and make a purchase.
Thanks to the growing global e-commerce industry, diamonds can now be bought online from the comfort of your home.
In fact, most people prefer to buy diamonds on the internet because of several reasons, which include:
A Bigger Selection
Jewelry stores have a limited collection and they're bound by the amount of space they have in their inventory and storefronts. Online shops, however, have wide varieties of diamonds that are all displayed in on an online storefront for consumers' ease. Moreover, you can also buy loose diamonds online and design custom-made jewelry piece for yourself or a loved one.
Less Pressure
Visiting a jewelry store can be overwhelming, especially if a pushy salesperson convinces you to purchase a diamond you're not really sure about. By shopping online, you can evade this dynamic entirely. You can browse through the different varieties at your own pace and make a decision when you're truly satisfied. This also reduces the chances of you going over your budget when making the final purchase.
Get Second Opinions
Shopping online for diamonds make it easier for you to get second opinions about your choice from your friends and family. This isn't exactly possible do when you're at a store. Even if you take a picture and send it to your best friend, you never know when they'll see it and respond.
Now that you've decided to buy a diamond on the internet, it's time for us to give you a few quick tips to ensure that you press the 'Buy Now' button with full confidence.
Research
Research, surveying and learning come first! Thoroughly go through all your options and different sellers, educate yourself about the 4Cs of diamonds, evaluate your selected stones and then buy one that suits you best.
Verify the GIA Report
When making the purchase, make sure that your diamond comes with a GIA grading report. You can verify the report on GIA's online database called Report Check to ensure you're buying an authentic, high-quality diamond.
View the Diamond in Person
Keep in mind that the diamond you shop for online might appear a bit different when you see it in real life. This is why it's best to look for a seller who offers a flexible return policy so you don't get stuck with a stone you're not truly satisfied with.
Popular Diamonds offer GIA certified diamonds with 30 day return policy. We're one of the leading diamond wholesalers in NYC, visit our website today and go through our collection of breath-taking diamonds.
Connect with us here.
---