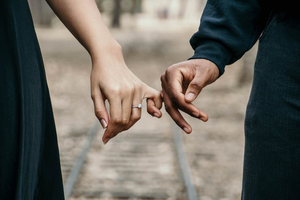 Engagement Ring 101: Care Tips For A Lifetime Of Sparkles
He popped the question…
You said yes!
Now you have a big, shiny rock on your ring finger reminding you of the love and promises you share with your significant other. The diamond ring reflects your relationship and you'll wear it for the rest of your life.
It's said that diamonds are forever, but the sparkle and brilliance of your diamond engagement ring might become dull if you don't care for it properly.
Here are a few tips you should follow to make sure your engagement ring keeps sparkling.
Clean Your Ring Regularly
The brightness of a diamond is determined by the way its cut. But if your ring is covered in dirt, no matter what its cut, your ring won't shine. Fortunately, cleaning a diamond ring isn't a difficult task. All you need is a glass of warm water, a few drops of soap and a light bristled toothbrush. Let your ring sit in the water for a few hours, scrub the diamond gently, then pat it dry.
Don't Touch The Stone
To keep your engagement ring sparkly for a lifetime, it's important that you don't touch the center diamond. These gemstones catch on to dust and oil easily which takes a toll on their brilliance. Even when taking off the ring, ensure doing that by the band instead of the stone.
Keep It Away From Chemicals
When you're carrying out daily house chores, such as the laundry or the dishes, remove your ring! The chemicals from the cleaning detergents can harm the surface of the diamond, making it look dull and dreary.
Store It Properly
It's pretty obvious you won't be wearing your ring every single day, so when it's not on your finger, make sure it's sitting safely in a fabric lined jewelry box. It's also important to keep the box in a secure place.
Moreover, it's a wise idea to keep small ring dishes all over your house. This way you can take off your ring when engaging in any hands on activities, and later know exactly where to find it.
Have It Insured
Along with having sentimental importance, your engagement ring also has financial value. And it's always a smart idea to have your investments insured. This way you'll be able to replace or cover the loss in case your engagement is ever lost, stolen or damaged.
If you're thinking on investing in diamonds, you can buy GIA certified diamonds in NYC from Popular Diamonds. We provide high quality diamonds, timepieces, and jewelry of all sorts at unbeatable prices!
---