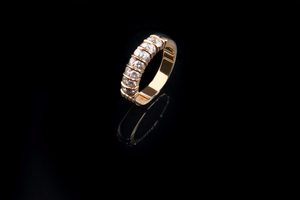 Engagement Ring Trends: 2019 Edition
Picking out to buy engagement rings or an engagement ring for your partner can be an overwhelming experience. And if you don't know where even to start, it can be especially nerve-wracking.
But you have nothing to worry about, because we've got your back!
To help you narrow down your choices and choose the perfect ring for your future fiancée, we've compiled a list of the emerging engagement ring trends in 2019.
Let's have a quick look.
It's Halo Time
Halo engagement rings are making a comeback this year! They have an elegant ring setting where the centre diamond is surrounded by several smaller ones, in a way that creates an exquisite halo. One of the best parts about halo engagement rings is that they make the diamond look bigger than it really is.
Fancy Shapes Are In
The recent celebrity engagement and wedding rings, including Priyanka Chopra and Nick Jonas', Hailey Baldwin and Justin Bieber's, and Karlie Kross and Josh Kushner's, have made fancy diamond shapes a popular trend. Instead of going with the traditional round cut diamonds, these celebrities opted for oval cut, pear cut and cushion cut diamonds.
Go Vintage
The timelessness of diamonds has inspired a trend of vintage designs in diamond engagement rings. Going with a larger diamond cutlet and a smaller table is the best way to incorporate a vintage touch to your engagement ring.
Asymmetrical
For a more modern aesthetic, you can choose a ring with an asymmetrical design. In this style, the diamond and the setting of the ring are mismatched and off-center. If your future fiancée is someone who loves trying out new things and has a unique sense of style, then an asymmetrical engagement ring would be perfect for them.
Band Style
If your partner is someone who plays sports and enjoys physical activities, you should get them an engagement ring that's wearable and easy to maintain. This is where the band style engagement ring comes in; they are elegant with a modern look and can be worn every day, even while playing sports.
Pink Is the Color
According to a professional ring designer, pink jewelry is becoming quite popular in 2019. From rose gold to bright pink, natural gemstones are available in many different shades of pink. Pair them up with clear diamonds and a platinum band and you'll have the most exquisite engagement ring ever.  
If you're looking to purchase a diamond engagement ring for your big proposal, get in touch with Popular Diamonds. We're one of the best diamond wholesalers in NYC with a wide range of GIA certified diamonds.
Connect with us today to buy engagement rings or get the perfect diamond engagement ring for when you pop the question!
---