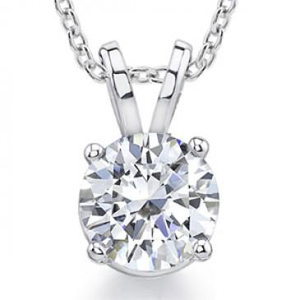 Five Steps to Choosing the Perfect Diamond Pendant for Your Necklace
Diamond pendants are standalone accessories that look good regardless of whether you're wearing any matching jewelry or not.
Subtle or bold, a diamond pendant is capable of transforming your whole look. Quite the versatile piece of jewelry, it can be worn both casually and formally. It will always complement your style and make you look graceful and elegant.
A diamond pendant necklace is one of the must-have diamond jewelries; it is also an investment. You should make sure that you're buying the right piece.
With these few steps, you can pick the perfect pendant for your necklace.
1.
Keep Comfort in Mind
When it comes to diamond jewelry, there is an endless variety of sizes, materials, designs, cuts, and shapes to choose from.
Pick something that is suited to your individual style and that fits your personality. Make sure to pick a design and size that you'll be comfortable wearing. It should be something that complements your look, not take away attention from your whole style.
2.
Select the Right Style
Diamond pendants come in a variety of styles and shapes. Maybe you'd prefer a more classic solitaire diamond pendant, or a halo pendant will be more up your alley.
If you want a timeless, traditional style then go with classy solitaires; if you're looking for something unconventional and more modern, you can go for an Asscher cut diamond pendant. Choose the one that appeals to you the most and just fits right with you.
3.
Consider the Price and Quality
To ensure that you get the most out of your diamond pendant, you will need to get something that's worth its quality.
The quality of the diamond will be determined by the 4 Cs – cut, color, clarity, and carat.
The clearer the diamond; the less impurities it has (less color); its size and weight (carat) and what cut it is will determine the price of the pendant. It will also depend on what setting you choose, a solitaire setting is pretty simple and straightforward, whereas a cluster or a halo setting will use more diamonds and will thus be priced accordingly.
4.
The Right Size
You can either go for a small, subtle diamond, a large one, or a moderately sized piece – whatever is best suited to your style. It is important you determine the grade and quality of the diamond, and check how the carats. Pick according to your budget.
5.
The Material of the Chain
The metal of the chain that your diamond pendant will hang on is just as important as the diamond itself; it will complete the whole look.
There are a variety of materials available to choose from; yellow, white, and rose gold, rhodium, platinum and much more.
Consider the shelf life of the material you choose; some metals tend to discolor and scratch a lot more easily than others. Gold will tarnish more quickly than platinum, so keep all these factors in mind.
Once you've taken everything into account, visit us at Popular Diamonds to pick from our wide selection. We're one of the best places to buy diamonds jewelry in NYC.
---