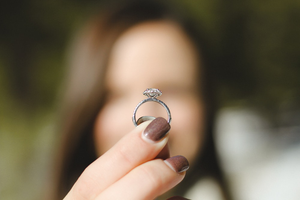 Gift Thyself – Choosing a Diamond Ring for Yourself
You've worked hard all year long and now you're thinking of splurging on yourself and getting something special. You've earned it, after all.
Perhaps you've had your eye on getting an exquisite diamond ring, but weren't sure whether you should get it or not. But why wait for someone to gift it you when you can get it yourself? You're an independent woman in the modern world, you know what you want and there's no reason why you shouldn't go and get it.
Buy engagement rings for yourself can be empowering. Keep these things in mind when you go diamond ring shopping.
Know Your Style
When getting a diamond ring for yourself, figure out your personal style first. Do you have a rather subtle, understated sense of style, or do you like to go all-out and be bold?
Here are a few questions you can ask yourself:
Check your wardrobe; do you have a lot of formal suits and conservative shoes? Is your closet more on the casual, everyday-wear side? Or do you enjoy dressy clothes?
Are you minimalist when it comes to jewelry?
Do you engage in a lot of hands-on work or not?
Shapes, Cutting Style, Cut Quality – A Lot to Choose From!
Getting the perfect diamond ring for yourself involves you getting to understand the difference between its shape, the various cutting styles, and what its cut quality is. The shape of a diamond is what you see face up; the most popular cut throughout times has been the round shape, but other fancy cuts available are pear, marquise, oval, square, heart, and rectangle.
The cutting quality of the diamond is the design in which the facets are arranged. There is the standard brilliant cut, emerald cut, and the popular radiant cut. The cutting quality is the brilliance a diamond gives off when it interacts with light.
Pick the Setting
Since you're buying this diamond ring for yourself, you get to decide what setting you want. The world of diamond settings is a fun place, from Tiffany to bezel, halo and Pavé, you have a lot of variety to choose from. Each setting has its own charm, carefully look at each style to see which one speaks to you the most.
Select the Right Jeweler
Since a diamond ring is an expensive investment, make sure you're buying your diamond jewelry from the right place. Pick a jeweler who has proper credentials and stocks GIA-graded diamonds.
Here at Popular Diamonds, we are one of the best places to buy diamond jewelry in New York City. We stock GIA-certified diamonds and offer superb quality!
---