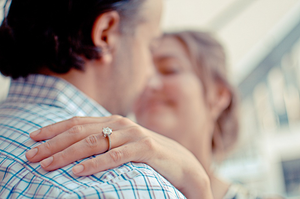 It's A Feeling: How to Tell if You've Found The Ring
Asking the love of your life to spend eternity with you is a nerve-wracking and exhilarating experience for most. In fact, according to a study, 60% of proposers have felt incredibly nervous about popping the big question even after having prepared for it in advance for months!
The pressure is high because you never know if you'll really be able to knock it out of the park with the rock in your hand! So how do you know if you've found the right ring for your beloved?
You Can Feel it's the Right Style!
It's like a culmination of different feelings, all of which point you in the right direction. It'll start with the style. If you've paid enough attention to your girl's likes and tastes and are aware of what she keeps in her jewelry box, you'll know when you've found the one, so buy engagement rings NYC for her!
If the ring you're choosing is similar to the one that she has pinned on her Pinterest board or dog-eared on her copy of Cosmopolitan, you've made the right choice!
You Can Feel it's the Right Size!
You've held your beloved's delicate hands and intertwined your fingers with theirs under the moonlight hundreds of times. So, you know her ring size pretty well. However, slipping that special ring on her finger is going to be the biggest moment of both of your lives so anything less than a perfect fit just won't do! You don't want to slip the ring on and then have it slip off immediately after, or worse, not being able to slip it past the first knuckle!
Photo credits: freepik
To avoid that moment of embarrassment and not risk a chance of refusal, you can look for a ring that she wears on the regular.
You Can Feel the Diamond is the Right Size!
If you've been with your significant other for at least six months, you must know their taste and lifestyle choices. However, this can be a bit tricky because sometimes people don't exactly know what they want. For example, she might tell you that she's big on diamonds and would enjoy a big, flashy rock that she can flaunt, but if you pay attention, you might find that she admires rings with a smaller stone and a sleeker cut on her friends and her favorite celebrity.
The second thing to keep in mind is her lifestyle. If your significant other has always enjoyed diamond jewelry, then they most probably are a lot more educated on the subject than you. This will also entail that they're very particular about the size of the stone, so do your research and prioritize your to-be-fiancée's preferences, and you'll know when you've found a winner for her finger!
Your Wallet Can Feel You've Spent the Right Amount of Money!
They say the price of an engagement ring is equal to your three-month salary's worth! However, if the love of your life likes the simpler things in life, you might consider getting something in your budget.
But if you really ask us, spend that money! In fact, you know you've bought the perfect ring when it's slightly hard on your budget. It shows what you're willing to do for the person you vow to spend the rest of your life with!
So stop beating around the bush and start shopping for your girl's dream buy engagement rings!
At our online diamond jewelry store in NYC, you'll find top-quality, GIA diamond rings at the right price. So start shopping today!
---