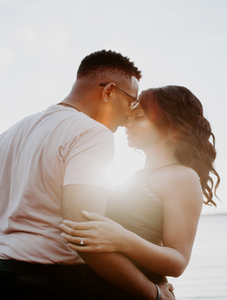 Just Engaged? Here's What You Should Do Next
Congratulations! You're engaged!
You'll be getting married to your soulmate. It's surreal!
And soon, you'll be caught up in the post-proposal whirlwind—setting the date, making the guest list, planning the wedding and more. Trust us when we say this, not even years of watching Hollywood wedding films could've prepared you for what's about to come.
To make your 'just-engaged' phase a little less crazy, here's everything you should do first after saying 'yes!'
Celebrate!
Right after he's popped the question and you've agreed to spend the rest of your life with him, take some time to celebrate this milestone in your relationship. Go to your favorite bar and pop a bottle of Champagne before you call up your friends and family to share the news.
Throw An Engagement Party
Once you've celebrated with your fiancé, it's time to break the news to your loved ones. Throw a party and let them know you're engaged. It's also the perfect chance to show off the stunning sparkler on your ring finger.
If you want, you can disguise your engagement party with a cover-up because honestly, surprise announcements are the best!
Take A Trip
Before you jump into your married life, take an impromptu trip with your fiancé. Get out of town together and enjoy some down time. De-stressing before the wedding planning and festivities begin is extremely important. Think of the trip as your engagement-moon and have a great time.
Meet Each other's Loved Ones
Since you've agreed to spend the rest of your lives together, it's important that you get to know each other's friends and family. Spend some time with their inner circle and build strong relationships. It'll help deepen the bond between you and your fiancé.
Get Your Ring Sized
It's great if your fiancé did the research and got you a ring that fit your finger perfectly. However, if that's not the case, take your ring back to the jeweler and have it sized accordingly. You don't want to wear a ring too big for your finger and end up losing it.
Insure Your Ring
Your diamond ring isn't just an emblem of love; it's also an important financial investment. It's always a good idea to get your ring insured. In case it gets lost, damaged or stolen, you'll be able to replace it or at least cover the loss.
If you're looking to buy a diamond ring for your engagement, check out our collection at Popular Diamonds in NYC.  We provide high quality GIA-certified diamonds at all sorts of unbeatable prices.
---