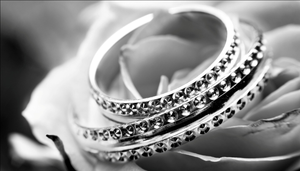 Keepin' It Classy: Vintage Wedding Rings for the Bride-To-Be
When it comes to picking your wedding rings, it's just as important as picking the right life partner to walk the aisle of life with! And choosing which diamond manufacturer NYC to go for while selecting the engagement ring. While some brides-to-be may prefer huge flashy rocks to complement their tastes, some of us are a bit conventional and have a more vintage and antique taste.
Why wouldn't we? After all, vintage wedding rings are classy; they hold an age-old beauty and above all, they're of personal value. So, without further ado, let's explore the best vintage wedding rings for the bride-to-be!
A Cluster Vintage Ring
Although the popular choice for wedding rings is a big solitaire diamond that takes the attention of everyone as the bride walks into her own wedding reception, there's something eternally beautiful about a cluster ring that has smaller stones clustered together in an intricate pattern to help the bride shine!
Cluster rings are also cheaper than a large stone in the center rings and have a delicate feel to them that radiates elegance and grace.
Colored Stone Vintage Ring
Sometimes your preferences and your budget won't allow you to splurge on a platinum band with a large rock atop. But that doesn't mean your wedding ring can't be just as classy!
In fact, you can get rings in different stones, which each mean something significant, and adorn the band with tiny diamonds. For instance, if you go for Blue Topaz, you promise your beloved a lifetime of friendship, integrity and fidelity.
Similarly, if you get a ruby ring, it'll signify fire and passion in the new journey of your love!
So, choose wisely and get your bride-to-be a ring that's a token of the vows you make to her!
A Family Heirloom!
Nothing says complete devotion and commitment like presenting your bride-to-be with a piece of jewelry that has been in your family for generations and passed down for centuries. Then it's not just a piece of antique jewelry, but a formal and open-hearted welcome for your bride into your family.
This can be the perfect gift for someone who's leaving their family name for you!
Design Your Own Vintage Wedding Ring!
Old is gold. But sometimes it's difficult to find the perfect antique looking vintage ring for your bride-to-be. But fear not! At our online diamond jewelry store in NYC you can design your own vintage wedding ring from our collection for your big day and have it shipped overnight!
You can buy our top-quality; GIA-certified diamond wedding rings online or contact us to find more about diamonds and us!
---