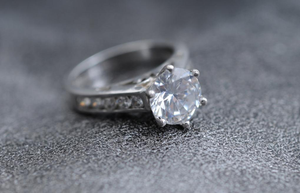 The Guide to Caring for Your Engagement and Wedding Rings
It was a long, arduous journey with many hurdles on the way, but you found The One. Husband? No, we're talking about that sparkly diamond ring on your left-hand finger.
Sure, there might be scores of information on how to care for your husband, but your engagement and wedding rings—what about them? When you first got it, they shined as bright as the sun, dazzling anyone.
But now, the sparkle has faded away a little, and the shine has waned ever so slightly.
Your diamond engagement ring and wedding band deserve just as much as care as anything else. They are, after all, a symbol of eternal love.  The last thing you would want is a chip or a scratch on them.
So how do you prevent your precious rings from meeting such a horrific fate? Read on to find out.
Remove It During Hand-Heavy Activities
Contrary to popular belief, it is necessary to take off your diamond ring during activities that require a lot of handwork. That means you should be taking your ring off during:
Gardening– digging out weeds in your garden and getting your hands dirty in the process does not bode well for your rings. The stone setting can come loose with the pressure.
Sports Activities– if you're a gym bunny who likes lifting heavy weights, you might want to take off your rings for the lifting session. No doing the Downward Dog with your rings on! Also, if you like to swim or play tennis, it would be wise to keep your rings at a side.
House Cleaning- if you're washing the dishes or cleaning the house, take off your rings. Harsh cleaning chemicals such as bleach can dull and damage the stone.
Store It Properly
When you're not wearing your engagement ring, find a proper place to store it. It is advised that you keep it in a dry and clean place such as a velvet pouch or any other fabric-lined jewelry box. Also, it is smart to keep your diamond engagement ring separate from other pieces of jewelry; otherwise, both can end up with scratches. A jewelry box with dividers and compartments will prevent that.
Keep It Clean
Since the rings are on your finger most of the time throughout the day, it accumulates a lot of dirt and grease.
To take off the everyday dust, grime, lotions and general dirt, make a solution of lukewarm water with mild dish soap poured in. Soak your ring in it for a little while, take it out, gently scrub it with a soft toothbrush, and then pat dry with a soft cloth.
Top-Quality Diamonds at Our Store
Here at Popular Diamonds, we stock some of the best and highest quality of diamond jewelry in NYC. Buy diamond watches, diamond necklaces, engagement rings – we have them all! Call us now at 1-866-867-1184 for more details! 
---