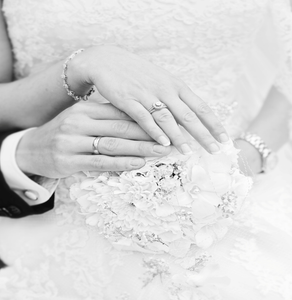 The Perfect Ring for the Perfect Wedding
Your engagement was probably more than perfect and everything you'd ever wished for! Whether it was a big proposal or a small, intimate affair, your engagement probably tops the list of sweet romantic gestures (buy engagement rings) your partner's ever made to you.
We're certain the engagement ring was perfect—just like any celebrity's—and surpassed your expectations and inspirations on your Pinterest board! But now it's time for you to choose the perfect wedding ring. It's okay to be a little unsure. After all, you do have to wear it for the rest of your life!
To make your decision easier, here's a short guide on what to consider when looking for the perfect wedding ring.
The Cut Makes The Ring
If you're a diamond kind of girl, make sure you get a ring that sparkles brightly! The brilliance of a diamond depends upon its cut. It can make your wedding ring look big and glittery and your fingers long and slender. You can choose a diamond cut from the most popular ones, which are:
The Round Cut
The Princess Cut
The Emerald Cut
The Cushion Cut
The Pear Cut
Quality Matters Most
The quality of a diamond ring is affected by the 4Cs. It's a standard developed by professionals to assess the value of the stones. When opting for a diamond wedding ring, ensure to buy gia diamonds. This way your ring will stay as a sparkling signifier of your love forever!
Consider Your Lifestyle
Remember, you're going to wear your wedding ring 24/7. So it's essential to keep your lifestyle in mind when buying it. If you work in the kitchen, participate in sports or play an instrument, get something comfortable. You can consider buying a wedding ring with a thin band and a diamond with rounded corners.
Don't Play It Safe!
Sometimes it better to try out new styles, you never know what you might end up falling in love with. So before making your final decision, take suggestions from other people. You can also try wearing the ring to see if it's comfortable. If you don't like it, you can always go back to the wedding rings on your inspiration board!
Pair It Up With Your Engagement Ring
It's a good idea to buy a wedding ring that complements your engagement ring. You can get a band that matches your engagement ring or choose a similar diamond. The shape and width of the two rings can also be the same. This way when you wear the two rings together, they can double your sparkle and elegance!
Make your search for jewelry swift and easy with our collection to buy the perfect wedding ring for your big day.
We at Popular Diamonds offer to buy loose diamonds and a wide variety of GIA diamonds to choose from. Having been in the business since 1965, customer satisfaction is our top priority. View our catalogue and pick a ring that speaks to you, today!
---