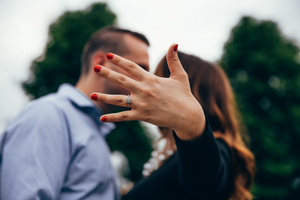 What's The Best Time of the Year to Pop the Question?
A memorable proposal requires a lot of planning and careful decision-making. You have to buy the perfect ring, pick out a dreamy location and choose the right words to make sure you get a "Yes!"
Along with these, one of the most important factors to keep in mind when you're planning to pop the question is the timing.
If you're wondering if there really is any "best time of the year" to get engaged—then the answer is yes, there is!
Here are some of the most popular days of the year to propose.
Christmas Day
Make one of the most celebratory days of the year even more special by proposing to the love of your life. This will give a chance to have your engagement celebrations with friends and family right away!
Valentine's Day
What's a time more perfect to propose than a day that commemorates love itself? Your partner might be expecting a sweet romantic gesture form you on Valentine's Day, but imagine their surprise when you get down on one knee and whisk out the diamond ring from your pocket!  
New Year's Day
Start the next chapter of your life by proposing to your partner on New Year's Day. This will give you both a chance to celebrate your engagement at New Year's parties and your fiancé will get the perfect opportunity to show off her diamond engagement ring to friends and family.
Christmas Eve
Surveys show that Christmas Eve is one of the most popular days for proposals. And why wouldn't it be? Families gather, relax and enjoy spending valuable time together. And the holiday feeling can be made even more special if you propose to your loved one anytime before, during or after the Christmas Eve dinner.
Fourth of July
Are you planning to go see the 4th of July fireworks? If yes, then that's also your perfect chance to pop the question. The gorgeous backdrop of exquisite fireworks will make your proposal unforgettable!
These are some of the best times of the year you can seal the deal with the love of your life.
But there are also some other things you should consider about timing when you're planning the big proposal.
Consider Your Partner's Schedule
It's important to keep your partner's schedule into consideration when planning the proposal. Make sure they don't have any work commitments or other appointments that might be on their mind. Pick a time when you're sure they're free and would be able to enjoy the newly-engaged phase to the fullest.
Don't Rush It
A marriage proposal is a once in a lifetime event; it's the start of a new chapter in your life. Ensure that you don't rush something this big. Take your time, plan it out and if you ever find second-guessing yourself, stop for a minute and take a little time to think everything through.
The right timing can make or break a proposal, and an equally important factor is the engagement ring.
If you're in NYC, get in touch with Popular Diamonds to get the perfect diamond engagement ring for when you pop the question.
We're one of the best diamond wholesalers in the area with a wide range of GIA certified diamonds. Connect with us today!
---