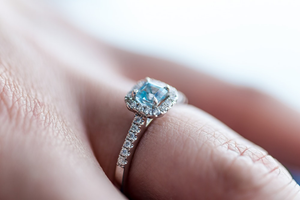 Your Guide to Engagement Ring Settings
The setting of your diamond engagement ring is as important as the diamond itself. The right setting can either elevate your diamond ring, so that it appears bigger and brighter, or it can make it look dull and unexciting.
Getting the perfect diamond engagement ring requires you jump through a lot of (necessary) hoops – knowing the 4 Cs are, finding the right band, the right size and much more.
But the setting of your diamond ring is of great importance as well.
So if you're unable to tell your Pavé apart from your bezel setting, let us guide you through some of the most commonly used settings.
The Solitaire Setting
This one of the classics of diamond engagement rings and the most commonly known. A solitaire diamond is held in place by prongs on a simple band.  With plain mounting and 4 or 6 prongs typically used, the solitaire setting gives a very traditional look.
The prongs can be round, flat, or straight and the band can be thick or thin, depending on personal taste.
The Channel or Pavé Setting
Used more frequently for wedding bands, channel setting is also quite popular.
A diamond flanks either side of the main diamond on the ring, and tiny diamonds are situated all the way around the band.
This gives the illusion that the band is not made of metal but paved with diamonds itself.
The Bezel Setting
In a bezel setting, the diamond is surrounded by a rim of metal that hold the gem in place. The diamond is situated on the same level as that of the metal band and this gives a very contemporary look.
As the diamond is situated as if inside the band, it makes for greater protection and less scratches on the diamond.
The Tension Setting
A diamond that is tension-set is held in place through the pressure of the band's metal. It is designed to look as if it's 'squeezing' the stone n place. This makes for a very modern and contemporary look and gives the stone a 'suspended' quality.
The Halo Setting
This setting is designed to make the main diamond appear larger.
A concentric circle of smaller diamonds surrounds the main stone like a halo, leading to the illusion of a larger main stone.
A ring can have a single or a double halo. Another variant of the halo setting is the cluster setting, with a somewhat similar look. But in that, there is no fixed 'halo' look and the cluster of diamonds can take any shape.
Now that you know your tension setting from your channel setting, it's time to get the ring. Visit us at Popular Diamonds if you're looking for diamond jewelry that is worth the value. We're one of the best diamond jewelry stores in NYC and provide top quality items.
Need to buy diamond engagement rings online in NYC?
---